I have this crazy ability to walk into a space and see its potential.
Most of the time my brain has already designed the space, moved in, organized the drawers, and lived there six months before I can actually convey to a client what the space CAN and WILL be.
This kitchen was no exception. Rather, the entire house was no exception but we'll get more into that in future posts. The space, the layout, and the plans—I just knew this kitchen would be a gathering spot for family and friends for years to come. It's refined without being fussy. The classic look pays homage to the home's history without disregarding its current age. This is a kitchen for all!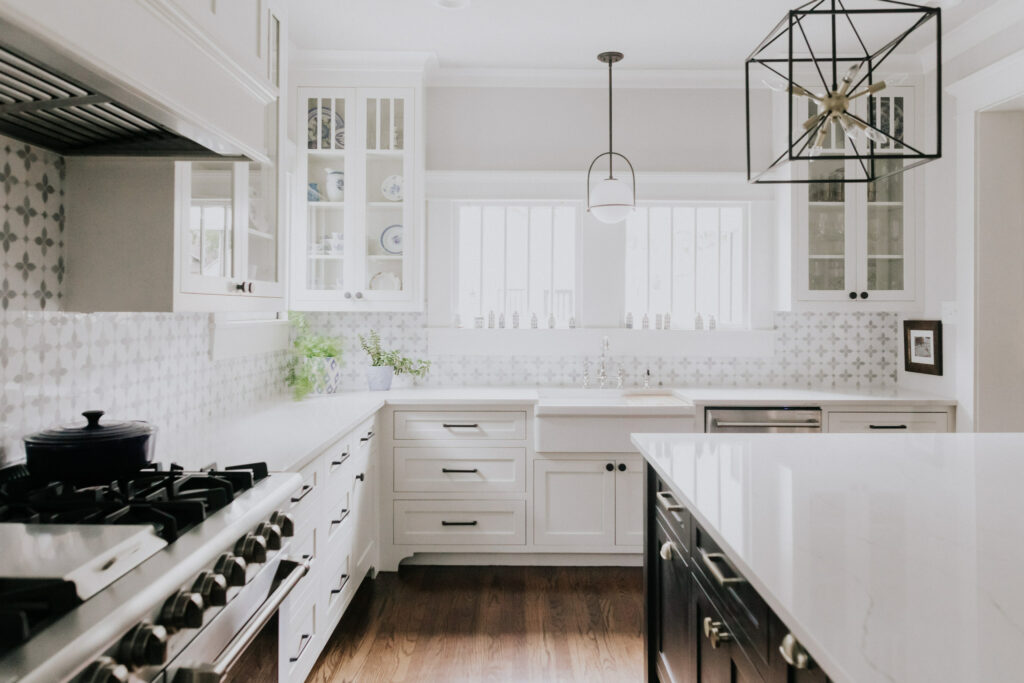 Adding Warmth to a Kitchen
There was no doubt that we were going to continue the wood flooring into this space. The warm brown tones help soften the hard and crisp surfaces of the room's materials. Using a classic black/white/gray motif, set the tone for the space. We painted the island in a decadent Sherwin Williams Tricorn Black and wrapped the rest of the space in Benjamin Moore White Dove.
To stand out against the black island, brass cabinet hardware was selected while giving a nod to the brass accents on the island lighting. To pop against the white cabinetry, I chose the same cabinet hardware but in a matte black finish. It all works together.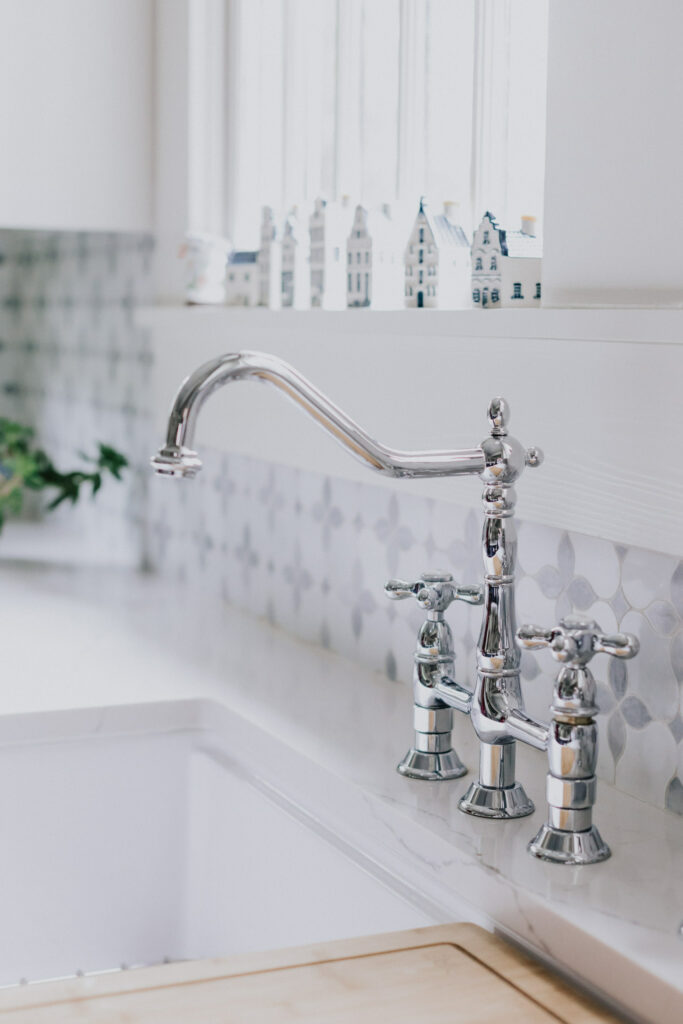 Farmhouse Sinks
A farmhouse sink will forever and always be a showstopper! This one is no exception. Can you imagine looking out those original windows into the backyard? Dreamy!
Mixing Metals
Polished chrome plumbing fixtures were a must for this space. The bridge-style faucet matches the pot filler above the range but stands alone as the only chrome in this space. I just love mixing metals. It adds a warm, curated touch.
Marble Mosaic Backsplash
For the backsplash, I really wanted to give this space an elevated look and decided that this marble mosaic from Floor and Decor would be the perfect fit. Floor and Decor is a great resource for reasonably priced natural stone tile. Their offerings change from season to season but they consistently have a variety of traditional, modern, and transitional styles.
Resilient Countertops
Knowing that this is a family of cooks and entertainers, we knew that we needed a countertop surface that would stand up to wear and tear and went with quartz in the same design for the perimeter and island counters. Creamy white with subtle streaks of gray looks lovely with this color palette.
Overall this kitchen is a stunner! It was showcased at the neighborhood's home tour in December 2019 and won a Preservation Dallas award in 2020 for the entire home's extensive remodel.
Are you ready to start your renovation? Schedule your Discovery Call with us today!
Interior Design by: Kate Thacker Home
Renovation by: River Oak Renovations
Photography: Christina Childress Photography